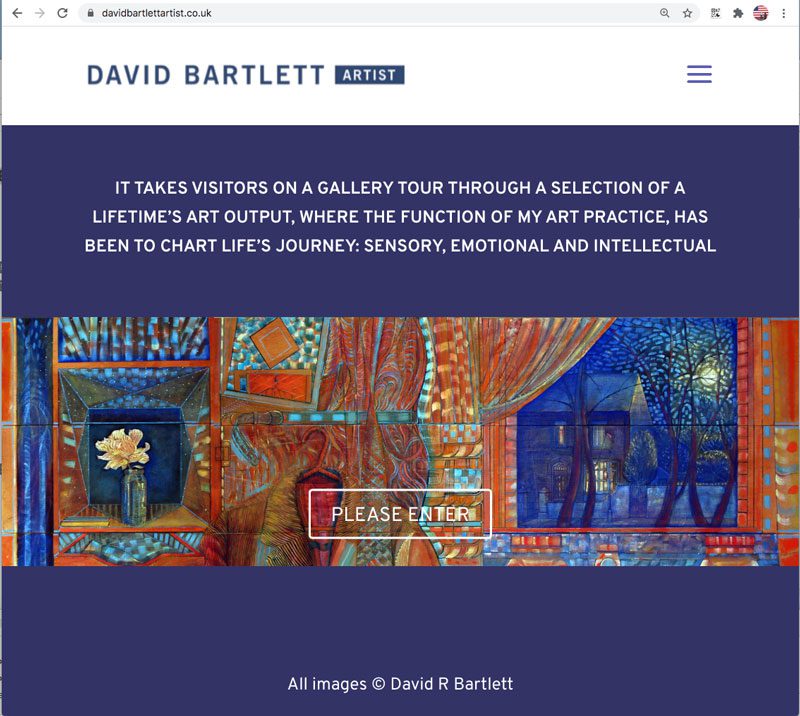 It was a real pleasure to work on creating this website for the artist, David Bartlett.
The brief was for an online catalogue of David's work, divided up into several galleries, in a clear and uncluttered format. The website is a record of his life's work, from his student days to the present. In David's words:
It takes visitors on a gallery tour through a selection of a lifetime's art output, where the function of my art practice, has been to chart life's journey: sensory, emotional and intellectual
Please do have a look at the site – we honestly love the art. It was a challenge to find the best way to create the galleries. After trying several plugins and different options we finally opted for a simple approach to displaying the images. In discussion with David, we divided the work up into three main periods, each with sub-galleries. The page shows a selection of images, appearing as you would view them on the wall in an exhibition, with each image opening in a lightbox for closer viewing.
If you have a yearning to catalogue a life's work, be it art or any other project or dedication, please contact us to see how we can help.