CASE STUDY
REDSTONE WEALTH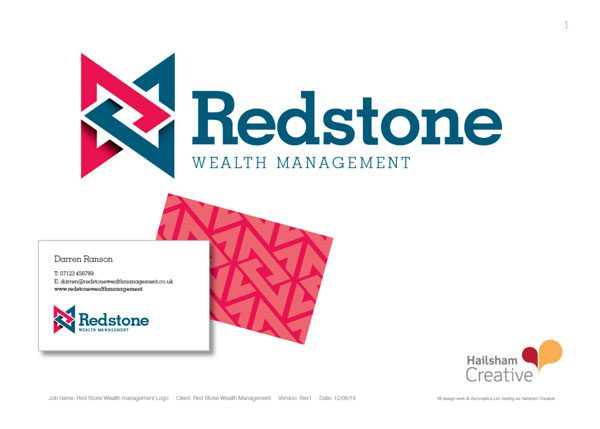 New branding and logo.
We were asked by Darren to look at a logo for his soon to be launched financial consultancy for which he had decided upon the name Redstone Wealth Management. In our meeting a clear brief was difficult to establish, but he wanted to be recognised as professional, serious and was keen to use the colour red.
Redstone Wealth Management Limited  believe continued financial support and guidance throughout your lifetime is key to delivering great customer service and helping to achieve successful outcomes to your individual financial objectives
They pride themselves in providing exceptional customer service with a tailored contact strategy that compliments your busy lifestyle.
Wealth Management
Estate and Retirement Planning
Mortgages
Insurances
There are several approaches you might use for this type of brief.
1) You could write a brief and ask the client to check and sign off on that brief,
2) You could create a mood board from scratch identifying the type of approach you would like to take for this client,
3) You could present just one or two ideas and "sell" one or other in to the client or
4) You could take a scattergun approach and shower the client with ideas.
Each of these has its merits and drawbacks but for this project we opted for The Scattergun. Reasons? Mainly time vs results vs budget.
1) Writing and agreeing a brief. There was a timescale in play and a back and forth discussion may have jeopardised that
2) The mood board would take time and therefore budget that this client simply did not have,
3) We aren't ultra smooth sales people and certainly don't believe in the emperor's new clothes approach. So we went for a selection of logos, confident we would pretty much nail it the first time round and keep one or two up our sleeves should we need them.
Brainstorming was interesting and went in several directions, from visuals as diverse as anglo-saxon runes, to rock strata. Each thought was sketched and the strongest would be developed and presented to the client as a standalone logo.
On presentation the client said what he liked and disliked about each. Some were discounted instantly, but we kept coming back to the same four. We developed each a little further to give the client some idea of how it might work in practical situations such as a business card or website banner.
Over the years we have found there are times when you shouldn't express a preference to a client and times when you should and this was one of those. The client was undecided and needed confident direction. The logo we kept coming back to was based upon an anglo-saxon rune for "stone" and we contrived to form an M and a W within the logo (Management and Wealth). So we pointed out there would be a great story behind it for Darren to pass on in turn to his clients.
Despite not being an expert in ancient runes, he liked this thought very much and we developed it further, showing options for layout and typeface.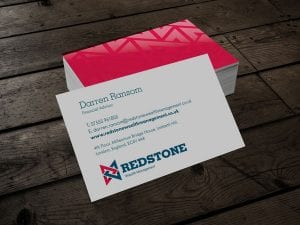 "I can say I enjoyed being part of the journey with you and I do use the story behind the logo when I hand over the business card. I have received positive feedback so far and my clients have really liked it. It brings depth to the brand and is a great starting point during my conversations."